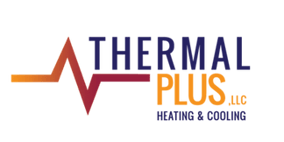 At our company, we take pride in our strong family-owned and operated culture. We treat our team and customers like family, fostering a warm and welcoming environment. We believe in delivering high-quality services to every client, regardless of the project size.
From small-scale repairs to large-scale installations, our commitment to excellence remains unwavering. Our dedicated team goes above and beyond to ensure customer satisfaction and build lasting relationships based on trust and exceptional service.
Meet Ash, the co-founder founder of Thermal Plus, who has been immersed in the HVAC industry for over 16 years. With a wealth of experience and a true passion for the craft, Ash brings a unique blend of expertise and excitement to the table.
Ash is not just your average HVAC professional; he is an HVAC nerd! Holding HVAC Masters Licenses in Maryland and Washington DC, as well as a Contractor's License in Virginia, Ash is a true expert in his field. His commitment to staying up-to-date with the latest industry knowledge ensures that Thermal Plus remains at the forefront of HVAC innovation.
One area that truly ignites Ash's enthusiasm is new and state-of-the-art heat pump systems. Ash believes that embracing innovation is key to providing the most efficient and eco-friendly heating and cooling options available.
Beyond the world of HVAC, Ash's passions take flight in the realm of planes and aviation. Whether it's flying his RC planes or RC cars, Ash finds joy and inspiration in all things that move with speed and precision..
Ash's dedication to excellence, combined with their passion for the HVAC industry and love for aviation, has shaped the foundation of Thermal Plus. Through their leadership, Thermal Plus continues to provide exceptional HVAC services, while staying at the forefront of technological advancements and ensuring customer satisfaction.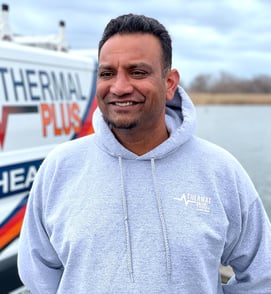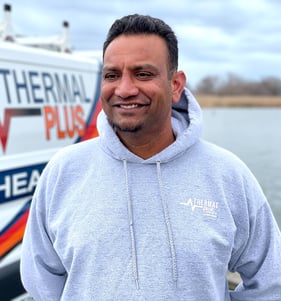 Ridgchi is the co-founder of Thermal Plus and brings over 15 years of HVAC industry expertise and a whole lot of passion to the table. With his sharp eye for detail and a love for all things intricate, Ridgchi knows how to make your HVAC dreams a reality.
When he's not busy working his magic on hydronic and fancy plumbing systems, Ridgchi is usually on his boat along the eastern shore. Ridgchi is a hardcore soccer fan too! His heart beats for Arsenal, his favorite team.
Ridgchi's journey in the HVAC world has been fueled by a passion for excellence and a commitment to providing top-notch service. He knows that a happy customer is a satisfied customer, and he goes above and beyond to make sure you're delighted with the results.